It was announced this week that F. Scott Fitzgerald's home is now up for sale in Long Island. The manor home is twenty miles outside New York and Fitzgerald and his wife Zelda are believed to have lived there between 1922 and 1924.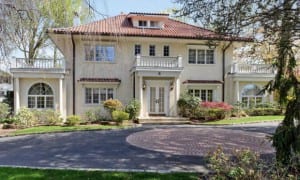 The Mediterranean style home features seven bedrooms, six bathrooms, a music room and several fireplaces. Its asking price is an eye-watering $3.8 million. I imagine the notion that Fitzgerald wrote The Great Gatsby while living there has added at least a million to the value of the property! I know I'd love the idea of swanning around the mansion reciting those famous lines: 'So we beat on, boats against the current, borne back ceaselessly into the past.'
Maybe I should start saving my pennies!
Sophie, Editor.