Licence to thrill – our love affair with spies
Next month I will be embarking on an international adventure, living the high life with an attractive partner by my side and infiltrating the shady goings-on in an illicit sinister organization with only my wits and trusty Walther PPK to help me…
OK, so that's a 'bit' of a tall story, what I mean of course is that I will be visiting my local cinema to watch James Bond's latest caper Spectre. As my other half will be joining me, the 'attractive partner' bit is true at least. And Bond's return shines a light on our on-going fascination with spies, of which there is perhaps a resurgence with the somewhat old-school Cold War atmosphere we've been experiencing of late.
And while there are the glamourous trappings of the genre, I wonder if spy fiction is more about our love or fear of people not being what they seem.
But it's worth noting that Bond is not the be all, end all or even beginning of the genre. Have you seen our recently reissued Alexander Wilson Wallace of the Seceret Service books, and seen the arguably 'original' Bond and M in the spymaster and agent characters?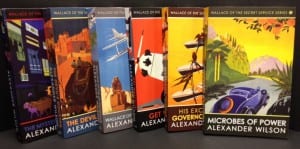 As Tony Parson's sums up: 'Without Alexander Wilson, there is no James Bond, there is no Bourne, there is no George Smiley. Unmissable.'
On a side note, for me the underlying mystery to the books is how Wilson found the time to write Wallace's adventures at all. There's his military record, his involvment with the Secret Service and lastly, his bigamous lifestyle. All no doubt inspirational to his writing, and indicative of a man who was able to tell tales of the highest order.
Lesley, Publishing Manager