'Freedom is a powerful drug': A&B author Sarah Grazebrook talks Suffragettes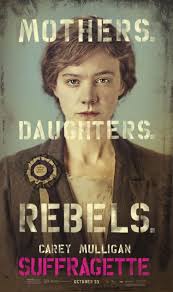 Next month sees the release of the eagerly anticipated Suffragette movie starring Carey Mulligan, Helena Bonham-Carter, Meryl Streep and many more names of note. It inspired us to ask A&B author Sarah Grazebrook, who wrote about the suffrage movement in her novel Crooked Pieces, what is so inspiring about this moment in history.
'Man is the whole world and the breath of God;
woman the rib and crooked piece of man.'
So said one Sir Thomas Browne in his Religio Medici in 1643. Yes, I know it was a long time ago but to hear some people speak you could be forgiven for thinking not much has changed.
It certainly hadn't by the beginning of the 20th century when there was still a firmly held belief amongst some politicians, scientists and academics that women were physically incapable of making decisions for themselves due to their smaller brains and innate susceptibility to that most heinous of female defects, emotion.
A lot of women, it must be said, were complicit in this, having been indoctrinated from birth to believe that their place was in the home, where they ranked a long way behind their fathers, husbands, brothers and sons and not noticeably ahead of the horses and dogs. A lot of women, maybe, but not all. Enter the Pankhursts, resilient, charismatic, impassioned. Determined to challenge the perception, to prove they were any man's equal – not just intellectually but in resolve, courage, ambition and, perhaps most tellingly of all, tenacity.
Few people have the ability to inspire and inflame the hearts of a nation as the Suffragettes did in a few short years. Brave, defiant, relentless in the pursuit of their goal, they endured prison, calumny, humiliation and torture at the hands of the Government, yet thousands of women flocked to join The Cause. Women who left homes, family, jobs, security and reputation in search of a better life. A life where they could be free to think, to choose, to be the person they were inside their head.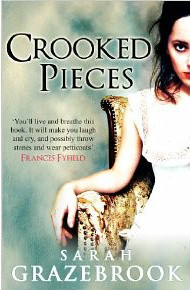 Crooked Pieces tells the story of one such woman. Maggie Robins is a slum girl sent to work for the Roe family in Chelsea. There she encounters their lodger, Sylvia Pankhurst, then a penniless art student. Through her she meets and becomes involved with the Women's Social and Political Union, witnessing some of their greatest triumphs and most devastating defeats, suffering with them the horrors of hunger, imprisonment, forced feeding and ultimate betrayal. But freedom is a powerful drug.
I wrote this book because it seemed to me there was very little known about how the movement affected the lives of working class women, many of whom sacrificed so much in the hope of creating a better world, if not for themselves, then for those who followed after. As one Suffragette wrote in their magazine, Votes for Women, 'We shall not travel, but we make the road.'
Sarah Grazebrook.
Read more about Sarah here.