I am lucky enough to be starting my bank holiday weekend with Benedict Cumberbatch. On Friday 3rd April, I'm going to see LETTERS LIVE: inspired by Letters of Note, the bestselling anthology compiled by Shaun Usher, and To the Letter by Simon Garfield, LETTERS LIVE is a series of curated, live events that celebrate the enduring power of literary correspondence.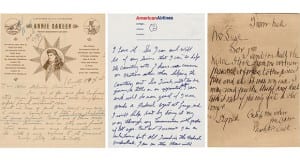 From Patti Smith's unread letter to a dying Robert Mapplethorpe; to Richard Burton's parting words to Elizabeth Taylor as they separated after years of tempestuous marriage. David Bowie's enthusiastic letter to his first American Fan and Che Guevara's revolutionary words to his children. LETTERS LIVE captures the humour, sadness, inspiration, and brilliance that illuminate all of our lives.
And did I mention Benedict Cumberbatch is starring?
What are you getting up to this bank holiday?
Sophie, Editorial.