Laurie Aaaarrrrgggghhhh! King and the Pirates
If you're lucky enough to have a ticket to ENO's Pirates of Penzance, on at the Coliseum at the moment, we're VERY jealous. Directed by the wonderful Mike Leigh, the production runs until the 4th July.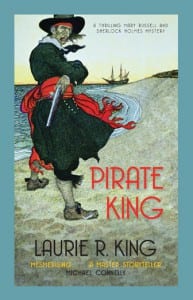 A&B favourite, Laurie R King's book Pirate King is set around the set of a film by the same title, a film based on Pirates of Penzance (though not yet an actual film- perhaps that's the next step in the franchise!).

To immerse yourself in all things buccaneer, head along to the Coliseum, or pick up a copy of Laurie's book – here.
Kathryn, Publicist