Jane Austen: Tough as Old Boots
Jane Austen is a tough old bird. I hasten to add that I say that with the greatest admiration and respect. How many 200+ year old ladies (I'll draw a veil over her exact age) could withstand the silliness, albeit pleasant silliness, that attaches itself to her?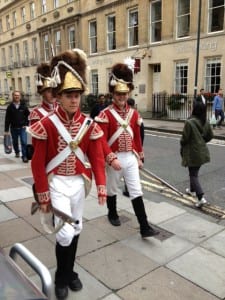 I was in Bath last month during part of the annual Jane Austen Festival, so was treated to the sight of many men and women taking Jane's name as an excuse to get dolled up in Regency dress. I managed to get this shot of a small troupe of soldiers. Red coats – oh my!
Austen is an example of an author remarkably resilient to new writers' interpretations and continuations, from Death Comes to Pemberly to Austenland. Thankfully none of these works reflect badly upon the originals. A little like Elizabeth Bennett holding her head high while her various relations embarrass her left, right and centre, their intrinsic worth still shines through. Now, don't let the fact that I am not a fan of (i.e. couldn't stand) either PD James nor Shannon Hale's books lead you to think that I'm a prissy Janeite.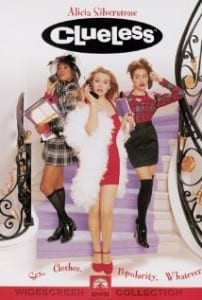 I stumbled upon the film Clueless a couple of weeks ago and was pleasantly surprised by how well it has aged since I'd last watched as a teenager. This Beverly Hills version of Emma has so much sass you're left thinking 'whatever' about some Austen retellings. And the late Melissa Nathan wrote a few very readable modern retellings of Austen's work, that combined the ingredients of excellent character portraits, entertainment and depth. I recommend Persuading Annie in particular.
This autumn The Austen Project launches, pairing up contemporary authors with one of Austen's novels for a modern retelling.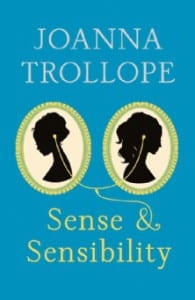 Joanna Trollope has landed Sense and Sensibility, Val McDermid will be working with Northanger Abbey, Curtis Sittenfeld adding his take on Pride and Prejudice and, most recently announced, Alexander McCall Smith will tackle Emma. A gig he described as 'like being asked to eat a box of delicious chocolates'. Nice work if you can get it.  I will ponder and contribute to The Guardian's open thread on who should be let loose on Persuasion and Mansfield Park (see here, Neil Gaiman would be interesting) and look forward to checking out the project in more depth.
Lesley Crooks, Sales & Digital Manager