Jane Austen…and Sea Monsters?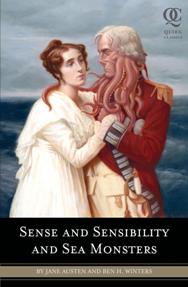 I've been on a light-hearted reading spree lately. After finishing David Mitchell's Cloud Atlas, which was great but I must admit quite long and serious, I turned to R.J. Palacio's Wonder. Not really a light-hearted subject, I admit (the book centres on a boy born with a facial abnormality), but it does have the advantage of a brilliantly feel-good ending and some very easy reading (it is a children's book, after all). And now, I've turned to another, more obviously humorous read: Sense and Sensibility and Sea Monsters.
This book, with its brilliant cover, caught my eye when I was wandering around HMV – it was on sale for, I kid you not, 49p. Well, I don't think it's possible for me to walk past any book that cheap and not buy it, no matter the subject. And although I'm a big fan of Jane Austen and was a little unsure about anyone messing with her immortal words, I must admit I've found it quite funny so far. It's definitely for those who have read Austen and know the text well, I think, as familiarity with her original words just makes Ben H. Winters' sea-monster additions more amusing. Here's a snippet from the first chapter:
The late owner of this estate was a single man, who lived to a very advanced age, and who for many years of his life had a constant companion and housekeeper in his sister. Her death came as a surprise, ten years before his own; she was beating laundry upon a rock that revealed itself to be the camouflaged exoskeleton of an overgrown crustacean, a striated hermit crab the size of a German Shepherd. The enraged creature affixed itself to her face with a predictably unfortunate effect.
I wonder how the story will turn out… Perhaps I'll treat myself to Pride and Prejudice and Zombies next.
Sara Magness, Editorial Administrator