It's never too late to achieve your dream – a guest post by Margaret Kaine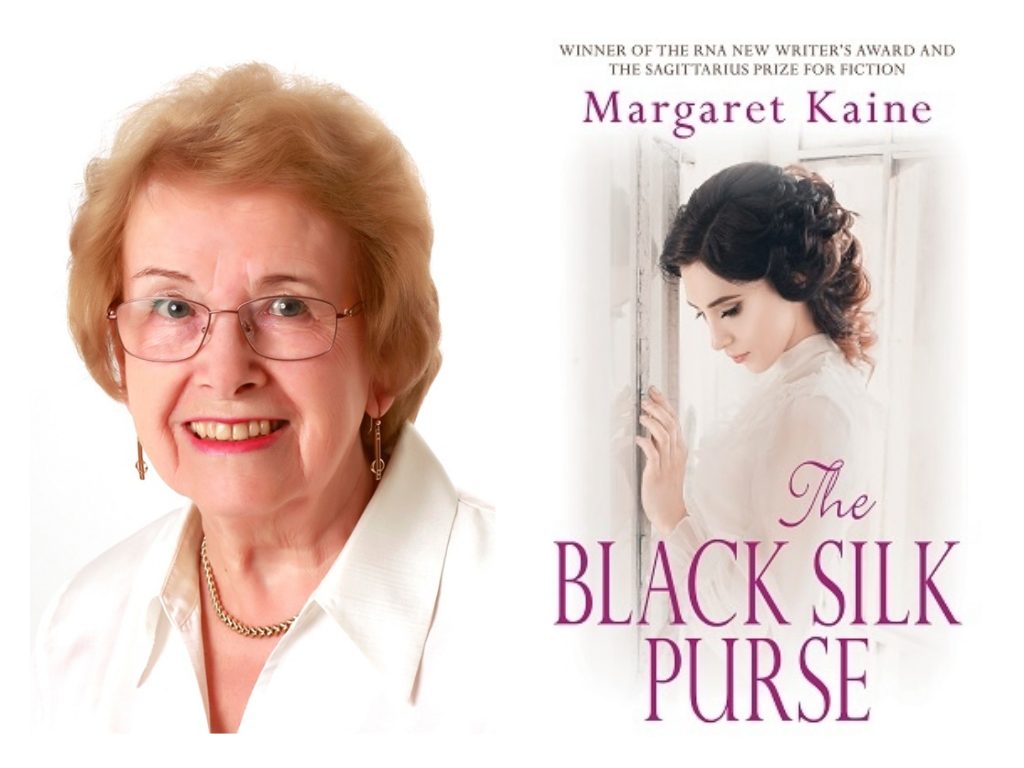 Today is officially the First Day of Summer and to celebrate we are making available Margaret Kaine's perfect summer read The Black Silk Purse ebook for just £2.99. To coincide with this, we are also delighted to welcome Margaret to the A&B blog to shed some light onto her path to publication and upcoming book.
I always had a dream of becoming a writer. But after marrying quite young, with a family, two dogs and working as a lecturer in further education, there never seemed to be any 'me' time. It wasn't until I had an 'empty nest' that I came to this wonderful world of writing fiction.
When meeting new people I am often asked where I get my inspiration from and quite honestly, I find it an almost impossible question to answer. I'm not someone who has stories stored in my mind or plots the entire book before beginning to write. A synopsis? Impossible to provide until I've written the last chapter! Instead I write organically. I do have a vague plan as to the era, location and theme, and can't write a word until I have the name of my heroine. From then on, for me the novel is like a flower, tiny buds appear and then open into blossom. I'm definitely character led and my novels tend to be a journey of discovery for me in the same way as they are for the reader, and I love that.
Advice to budding writers? Often asked this, I always say not to beaver away at home and in isolation, but join a writing group, one where other committed writers will give constructive criticism and support. And one learns so much about the craft of writing, by helping others to edit their own work. I've made many valued friends in this way. Another tip is to always read your work aloud. This will reveal any repetitions or variations in pace. And I've discovered that that downloading a completed novel on to Kindle for a final read will pick up errors previously missed.
Readers are often curious about where an author actually writes. I used to have a separate downstairs study which was my 'den', but we've recently downsized and moved to Eastbourne. Now I have a desk and printer in the corner of my spacious bedroom. Not so much space – but one advantage is not so much clutter! And being near the sea compensates for a lot.
I attempted short stories at first, and like most new writers, had my share of rejections before becoming published in women's magazines in the UK, and also in Australia, Norway, South Africa and Ireland.
And then I took a deep breath and at last attempted to fulfil my dream and write a novel. Advice is to 'write about what you know', and as I was born and educated in the Potteries, I decided to write a regional saga beginning at the end of the Second World War.
It is a long and lonely road trying to get a first novel published, but I was lucky, eventually being offered a four-book contract by Poolbeg, the top Irish publishers. Ring of Clay went on to win the Romantic Novelists' Association New Writer's Award, and also the Society of Authors' Sagittarius Prize. I felt I was walking on air.
After Hodder & Stoughton bought the UK & Commonwealth rights of these first four books, I wrote three more successful Potteries' sagas set between the 50s and 70s. After which I felt a longing to write a more cosmopolitan novel, and wrote a psychological suspense, Dangerous Decisions (Choc Lit).
And now, I am delighted to be with Allison & Busby who have published, with a gorgeous cover, my Edwardian novel, The Black Silk Purse. I loved doing the research about the elegant fashions and the beautiful great houses. The aristocracy certainly knew how to live in style. But supporting that lifestyle would be a veritable army of servants, domestic service then being the main employment. And they were very often ill-used.
I've always thought that everyone we meet touches our lives in some way. And I wanted to explore how sometimes, just sometimes, one person can change forever our future. Certainly this was the dramatic case for both Ella and Letitia. Was it fate that brought them together? I like to think so.
The story begins with a child being harshly treated in a workhouse, and the way her life becomes intertwined with that of a lonely, yet young and wealthy spinster.
The Historical Novel Society reviewed The Black Silk Purse, as 'An intriguing and emotive read, full of historical detail yet deeply romantic. Throughout the novel the author takes you on a journey full of twists, turns and surprises – it is a real page-turner which you will never forget.'
In addition, Allison & Busby will be publishing my new book, A Life of Secrets, set in 1926 against the background of the General Strike. Lady Deborah Claremont, despite being a member of the aristocracy, has a social conscience and leads not only a double life but to prevent scandal is also forced to hide both past and present emotive issues. A Life of Secrets will be released in January 2020.