Have your cake and eat it.
There's a National Day of Something for every day of the year.  And we've come to the point where we're doubling up – there aren't enough days in the calendar to give a National Day to all the Somethings we want to dedicate a National Day to. And half the time we get confused with which nation that National Day refers to. And whether it's the same as the International Day for that Something or not. Confused? That's my point.
Well today, I'm pulling out my half-American card and flagging up the fact it is National Cake Day – in the US. But frankly, what's the difference. We should celebrate it here too. Every day should be Cake Day in my book, and I've had cake on my mind all morning.
I can only blame Flo Wadlow for this, the author of Over a Hot Stove – a memoir of her life as a kitchen maid in the 1930s. I was looking through the recipes at the back of the book, and realised that they were all for cake. Blickling Ginger Sponge Cake, Mexican Gateau, Marmalade Cake, Mrs Ave's Church Warden's Cake… and the deliciously sounding Rainbow Cake.  And I share the recipe for that one here: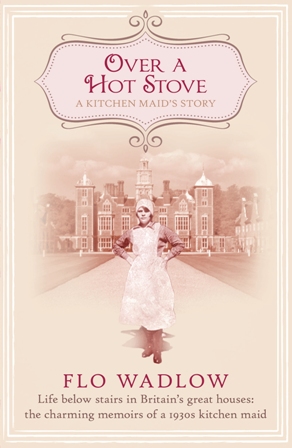 RAINBOW CAKE
Ingredients: 6 ozs marg. or butter, 6 ozs sugar (caster or gran.), 3 eggs, 6 ozs self-raising flour, 1 dsp cocoa, 1 dsp of pink blancmange powder – either strawberry or raspberry (if you cannot get blancmange powder, use 'Angel Delight'), green colouring
Method: Beat marg. and sugar together then stir in eggs and flour. If you have an electric mixer this can be done all at once. Divide the mixture into 4 basins.
In one add cocoa, add strawberry to another basin, add drops of green colour to the next and leave one plain. From each basin put different spoonfuls of colour into two 8-inch greased sponge tins, and bake at 350 degrees. Test after 30–40 minutes.
I figure if I now feel obliged to play kitchen-maid tonight and to whip up a calorific wonder such as this, I'm taking you all down with me.
Thanks Flo, and Happy National Cake Day everyone!
Chiara Priorelli, Publicity & Online Marketing Manager