As I picked up the most recent issue of The Bookseller I was greeted on the front cover by this charming, spectacled fellow.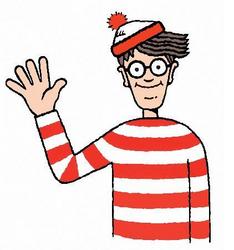 As I fondly remember squinting over various editions of Wally's adventures, I was delighted to see that Wally has been popping up here, there and everywhere in unusual and crowded settings for 25 years. Well, I was delighted after I got over the fact that this made me feel very, very old.
Walker Books are planning a bit of a shindig for him this year, including supporting various Where's Wally parties. How great that they are even offering free Wally costume hire, eh?
Well, if you happen to leave it rather late sorting your outfit for a Wally party (or, like I did, rushed around like a headless chicken before Halloween) I can provide the following tips:
Red striped Breton-style tops are very easy to come by, check out H&M for instance. I had trouble finding a red and white striped bobble hat, so ended up using fabric pen to customize a white one and made a red bobble/pom pom to attach to the top.
Don a pair of your own jeans, clunky brown boots optional
Round 'Harry Potter' style glasses can be found in any joke or costume shop
The pièce de résistance de resistance – any charity shop is bound to be overflowing with Wally's trademark walking stick.
There you have it. And no, before you ask, I won't be posting a picture of myself in costume.
Lesley-Anne Crooks, Sales & Digital Manager