Halloween has gone, but zombies are here to stay…
Sweeney Todd, Mrs Lovett, Cruella De Vil and Where's Wally (that was me, simplicity being paramount in my costume choice) were just some of the people who gathered on Saturday night to celebrate a good friend's birthday (Mrs Lovett's of course). Among the tasty treats were pies with fingers sticking out of them (read, sausages), and a rather eclectic soundtrack for the evening had been pulled together. Though as the search term had been quite wide we were 'treated' to songs like 'Every Little Thing She Does is Magic' by The Police and some creepy Halloween sound effects.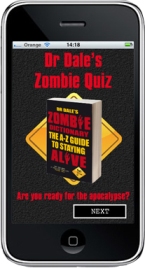 There was further cause for celebration at the weekend with the launch of A&B's first app, yes one of those new-fangled applications people, we are just that groovy. Apart from the unjustified use of words like 'groovy'. Dr Dale's Zombie Quiz is a reduction of some of the pearls of wisdom from our very own zombologist guru, Dr Dale Seslick, and is designed as an introduction to zombie survival principles which you can check out in full in Dr Dale's Zombie Dictionary or by meeting the man himself at a How To Survive a Zombie Apocalypse. Dr Dale is also on the road this coming month taking his message to various Waterstone's stores in Banbury, Leicester, Liverpool, Blackpool and Bradford.
But remember, though this app may have launched at the time of year when the supermarkets are overflowing with ghoulish paraphernalia, zombie survival is most emphatically for life, not just for Halloween. And with the new series The Walking Dead launching on FX tomorrow, it looks like zombies are very much here to stay. So, stay safe.
Lesley Crooks, Sales & Digital Manager