ZOMBIE BOOK SIGNING – BRADFORD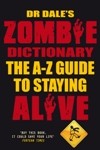 Saturday 4th December, 12noon – 3.00pm    WATERSTONE'S, BRADFORD
Come and Meet Dr Dale, leader of the hit comedy seminar How to Survive a Zombie Apocalypse and author of Dr Dale's Zombie Dictionary. Ask him anything you want about zombie survival and get a signed copy of his book at Waterstone's, The Wool Exchange, Hustlergate, Bradford BD1 1BL. For more information call the bookshop on 0843 290 8173. If you care about your life, don't miss this event!