Three Crime Series to Try
Today, September 15th, is Agatha Christie's birthday! Here at the A&B offices, we're big fans of the queen of crime. To mark the occasion, we wanted to share three crime series which you can get stuck in to right now.
The Amory Ames series, by Ashley Weaver
Thrilling and stylish, Christie fans will love these.
Book 1: Murder at the Brightwell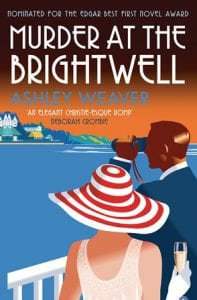 1932, Devon. Amory Ames is glamorous, wealthy and unhappily married to notoriously charming playboy Milo. She willingly accepts her former fiancé Gil Trent's plea for help in preventing his sister Emmeline from meeting a similar matrimonial fate. Amory accompanies Gil to The Brightwell, the sprawling seaside resort where Emmeline and her fiancé, the impeccably groomed, disreputable cad Rupert Howe are holidaying, along with the other rich and sumptuously-dressed guests.
Champagne flows but the sparkle soon fades as a dark and unresolved history between Gil and Rupert surfaces. After a late night quarrel the luxurious hotel is one guest fewer by morning. When Gil is arrested for murder Amory is determined to defend his innocence. But if she's right, the killer is still in their midst – can she prove it before she, too, becomes a victim? And what of the unexpected arrival of Milo? Extravagance, scoundrels and red-herrings abound as Amory draws closer to discovering the murderer – as well as love.
There are currently 4 books in the series – order the first one here.
Secondly, we have the Mary Russell & Sherlock Holmes series, by Laurie R. King
A retired Sherlock Holmes gains an apprentice in the form of Mary Russell, a young, modern, but very intelligent girl.
Book 1: The Beekeeper's Apprentice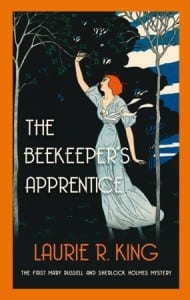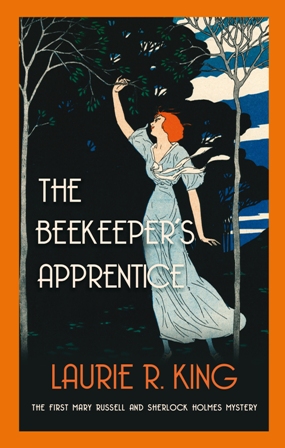 1915. The great detective Sherlock Holmes is retired and quietly engaged in the study of honey bees when a young woman literally stumbles into him on the Sussex Downs. Fifteen years old, gawky, egotistical, and recently orphaned, Mary Russell displays an intellect to impress even Sherlock Holmes – and match him wit for wit.
Under his reluctant tutelage, this very modern twentieth-century woman proves a deft protégée and a fitting partner for the Victorian detective. In their first case together, they must track down a kidnapped American senator's daughter and confront a truly cunning adversary – a bomber who has set trip-wires for the sleuths and who will stop at nothing to end their partnership.
With 15 books in this series, it should keep you going for a while! Buy the first one here.
Thirdly, try the Sam Clair series by Judith Flanders
A very funny contemporary crime series set in the world of book publishing.
Book 1: A Murder of Magpies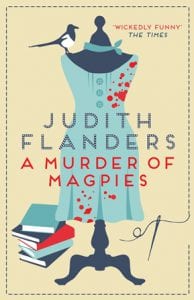 You know when you can have one those days at the office? You spill coffee on your keyboard, the finance director goes on an expenses rampage and then, before you know it, your favourite author is murdered. Don't you just hate when that happens?
When Samantha Clair decides to publish journalist Kit Lovell's tell-all book on the death of fashion-designer Rodrigo Alemán, she can scarcely imagine the dangers ahead. Cue a rollercoaster ride into the dark realms of fashion, money-laundering and murder, armed with nothing but her e-reader and her trusty stock of sarcasm…A pitch-perfect crime caper offers a witty, intelligent and entertaining glimpse into the publishing world.
Order the first book here.
What are some of your favourite crime series, historical or contemporary?