Did you know that the Bloody Mary is rumoured to have been named by Ernest Hemingway? Just one of the exciting and, ahem, educational facts you could learn upon purchasing this book.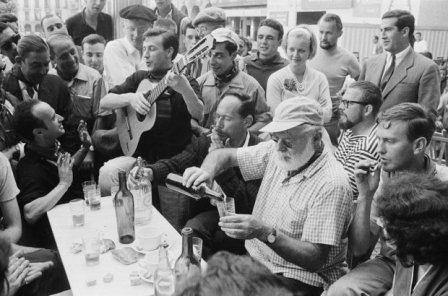 Reminiscent of another A&B favourite, Tequila Mockingbird (see Lesley's blog post here ), To Have and Have Another is cocktail connoisseur Philip Greene's exploration of an author known as much for his drinking habits as his writing. Make yourself a Rum Swizzle and sit down with a copy of a book by the writer who famously suggested that one should 'write drunk, edit sober'. Apparently Hemingway rivalled Bond in his love of a Martini, hinted at in 'A Farewell to Arms', in which Frederic Henry muses of sipping martinis: "I had never tasted anything so cool and clean. They made me feel civilized."
Isn't anything that brings the pages and characters of a book to life, and helps you to appreciate them more fully, just fantastic? Yes… a fresh understanding… definitely why I'm keen to try the Hemingway Mojito recipe below:
Ingredients:
6 fresh mint leaves
Juice of 1 lime
2 tsp light brown sugar
1-1/2 oz. white rum, such as 10 Cane
3 oz. champagne
Sprig of fresh mint, for garnish
Instructions:
Step 1: In a rocks glass, add the mint leaves, lime juice, and brown sugar. Muddle to release the mint oil.
Step 2: Add the rum and fill the glass 3/4 full with ice. Top off with the champagne. Garnish with the mint sprig.
Other fictional friends and their drinks…
James Bond
Favourite drink: A Martini… – you know the rest
F. Scott Fitzgerald
Favourite drink: A Gin Rickey
Truman Capote
Favourite drink: A Screwdriver
Alex (A Clockwork Orange)
Favourite drink: A Moloko Plus
Click here for a fantastic graphic chart of characters and their drinks.
Kathryn, Publishing Assistant