An Austentatious Night Out
Anyone who reads our blog posts or tweets for any length of time will come to realise that I'm a bit of a Jane Austen fan. But, I hasten to add, I'd like to think I'm not the scary, militant type that would take it as a personal insult if you happened to say you didn't think Pride and Prejudice was all that. No, don't be ridiculous. I'd merely recommend you give Emma a try, of course.
So, I am actually very interested in the latest Austen-inspired offering to hit our stages this year: Austentatious, an improvised Jane Austen novel. Anyone who can improvise anything is worthy of my admiration, but setting themselves the additional challenge of staging something in the Regency period, indeed using the stylistic aspects/tropes of Austen as prompt and trigger for comedy, definitely sounds like it's worthy of a round of applause.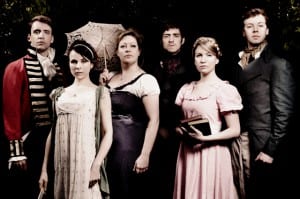 There are various dates in London and on tour around the UK over the coming months, I shall be digging out my best sprigged muslin for one of them very soon.
Lesley Crooks, Digital & Online Marketing Manager