I recently put aside my fairly sizable fear of heights and ventured up The Shard, London's latest tourist attraction. Everything in the building is very dark and glossy, and I felt uncouth just being in the reception. The viewing platform is on floor 69, with access up to floor 74 via stairs. I was a little apprehensive about the lift as I've never been a fan of that 'lift' feeling you get in your stomach when it levels out.
But I had no reason to be nervous. Somehow the elevator to the top floor took less than thirty seconds and I never felt a thing. It was like being in a spaceship – soundless and light. The double doors opened and I was greeted with this: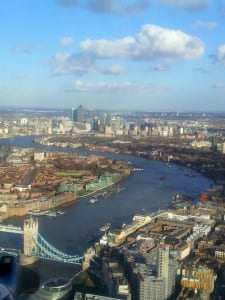 I might not like heights but that is an amazing view. After some squinting I even managed to find where I live in south London. I think I'm somewhat envious of the people with offices up there. It must be great to ponder a problem while looking down at the great city. Although the temptation to sit and people watch might be too great!
Do you have any great views of the capital to share?
Sophie Robinson, Editorial Administrator