Fancy a bit of Rioja this weekend?
A couple of weekends ago, I decided to up-sticks from the miserable London weather and head off for a girly weekend to Rioja in northern Spain with my best friend, her mum and sister. A 'Rioja Road Trip' so to speak. As seasoned (some might even say, expert!) drinkers of the stuff, we felt it only just to visit the place that we may have single-handed put on the map!
Now despite the very comprehensive and delicious wine tastings at the likes of the Bodegas Muga, we did venture out of the wineries (albeit not that far!) to discover some of the beautiful architecture and food hotspots that the region has to offer. My top tips if you fancy a weekend away (FYI easyjet appear to have a sale on!), are to visit the Bodegas Dinastía Vivanco Museum for an historical insight into the ethos of the wine and the whole process from grape to bottle. Plus, for a museum, may I just say this one excels itself, as when you finish the tour you can purchase some delicious tapas and sample some of Vivanco's finest.
For something a little off the beaten track, discover Bodegas Miguel Merino in the idyllic town of Briones, a tiny little experimental winery (he even makes chocolate with wine instead of milk, and it was delish!). The whole experience was such a treat! For nightlife, head into the capital Logroño for some of the best food and tapas I've ever tasted, including the infamous mushrooms from Bar Soriano, the only dish on the menu. Plus, if you're lucky enough to stumble across some serenading locals, like we did, you get free entertainment for the evening. For the architecturally minded among you, take a drive through the beautiful landscapes to the Bodegas Ysios with its futuristic waves, or Marqués de Riscal, (pictured below) designed by Frank Gehry, the architect of the Guggenheim in Bilbao. Absolutely stunning sights!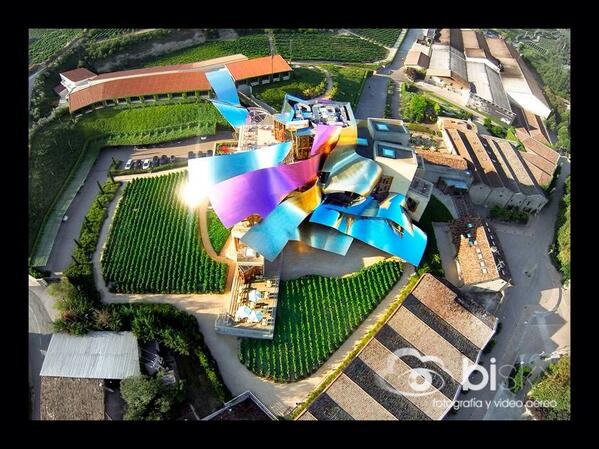 Now if after all that it doesn't make you appreciate a bottle of the good stuff, I don't know what will! Salut!
Ella Davis, currently doing work experience at A&B