Down the rabbit/cake hole
'Pop-up' has become a buzz word lately, though it still makes me think of jack-in-the-boxes making me jump rather than trendy temporary boutiques and events. But the term's connotations seem appropriate to two upcoming nights of Alice and Wonderland-themed fun later this month.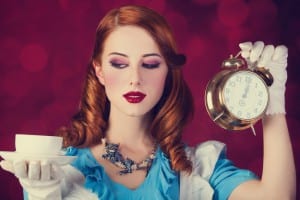 Fancy following the White Rabbit to the Mad Hatter's Tea Party? Note, you'll have to sample some 'Eat Me' cakes in order to gain entrance to Wonderland. And stump up £50 a head for the four-course dining experience on either 19th or 20th April. Head here for details.
If following in Alice's footsteps isn't quite your thing, then maybe you fancy yourself as more of a George Smiley? A spook of the old school? Well, obviously those in the know would have attended last month's night of food and fantasy at Pushkin House with Russian Revels. Split into two groups, American or Russian, guests received spy training, food from both sides of the Iron Curtain and a well-stocked bar.
Between these gastronomic events and the offerings of people like Secret Cinema, it seems people are crying out for a story to immerse themselves in of a night out. Perhaps I'm a little old-fashioned in going straight to the source and having a night in with the book instead?
Lesley Crooks, Digital & Online Marketing Manager