Being a bit of a foodie, I was excited to be invited to a sushi making class last week, at Sumosan. The evening started with a shining example of what we were attempting to make- delicious crab, and salmon and avocado rolls, as well as salmon and prawn nigiri. Appetites satisfied and inspired, we set about learning the fine art of sushi from the brilliant chefs.
For any one who is tempted to 'try this at home' – a few handy tips I picked up along the way:
1.    Definitely work with the best ingredients you can find. This is simple stuff but it's all in the flavours.
2.    Keep your hands wet at all times when working with the sushi rice. And move fast to avoid the rice hardening. If you are moving fast and your hands are not wet, it will end up in your hair.
3.    Seaweed is a delicious snack and sake is even better (though perhaps not as a snack!).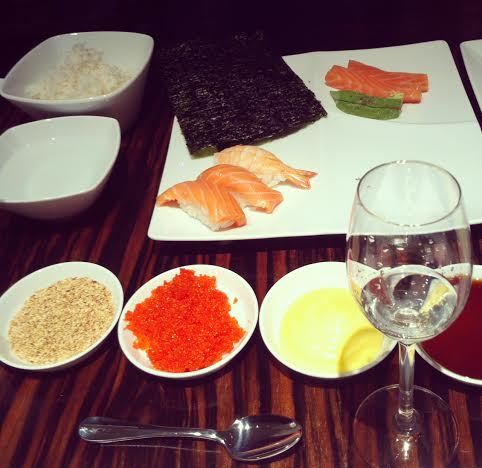 The saki was consumed rather more rapidly than the food
All of the japanese cuisine put me in mind of a few 'world food' cookbooks that I would like to try out, or give as Christmas presents to fellow food lovers. See below for the list…
The South African Illustrated Cookbook, Lehla Eldridge, Allison & Busby, £9.99
Jerusalem, Sami Tamimi, Yotam Ottolenghi, Ebury Press, £27.00
Larousse Gastronomique, Hamlyn, £60.00
Do you have a favourite cookbook?
Kathryn Colwell, Publishing Assistant