Dancers, acrobats, mermaids and jazz – a bold and vibrant world according to Henri Matisse
I made  my way around the spectacular Cut-Outs exhibition at the Tate Modern on Friday, and I left feeling overwhelmingly inspired by the abundant positivity and energy that beams out of Matisse's later works.
One of the most innovative painters of the twentieth-century alongside Duchamp and Picasso, health problems in the last seventeen years of Matisse's life left him severely limited in his mobility. However, Matisse may have grown old but his work did not. Unable to paint, he turned to an entirely new approach to creating art, cutting shapes from paper.
The result: a series of 120 dazzlingly bright artworks that portray his wonderfully positive emotional outlook. And the feeling is infectious as you wonder around the exhibition surrounded by the colourful, dynamic and jovial artworks. This is Matisse's stunning vision where happiness triumphs over ill health and disorder.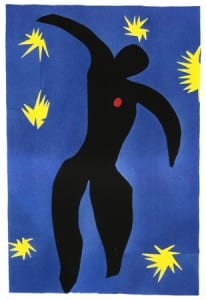 Which cut-out is your favourite?
Lydia Riddle, Editor