'Crime in the City' with Alanna Knight, in Edinburgh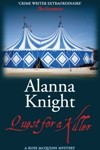 RESCHEDULED! New Date TBC    BLACKHALL LIBRARY, EDINBURGH
Come and meet Scottish crime-writer Alanna Knight who will be discussing historical crime set in Edinburgh and her own books, including her latest release Quest for a Killer, at Blackhall Library 56 Hillhouse Road, Edinburgh, EH4 5EG. For more information contact the library on 0131 529 5595.