Competition: How good is your Gujarati?
Yesterday, I received a copy of Garavi Gujarat, which I understand is one of the oldest and biggest selling weekly Indian magazines published outside India.  I was delighted to read the covering letter which flagged up the fact that they had reviewed Death on the Marais, by Adrian Magson (the first book in the Lucas Rocco crime series) on p38.  Except when I turned to the page I found the review looked like this: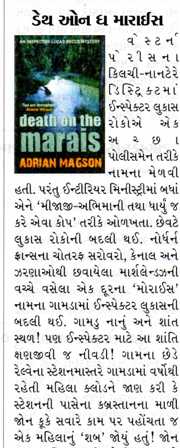 Now, I may know four languages, but unfortunately Gujarati is not one of them.
(I studied French at uni. My mistake.)
And now I'm dying to know what it says.
Apparently the magazine is published in both English and Gujarati so I could, no doubt, ask the editor to send me their other edition. But what would be the fun in that?
So here's the Friday challenge…
Translate this review for us! Do it yourself (if you know Gujarati) or find someone who can translate it for you (what else is Twitter for??) – and you could win all three books in the series: Death on the Marais, Death on the Rive Nord and the upcoming new hardback release Death on the Pont Noir!  (We'll give a set to you and your friend if it's a joint endeavour).  Click on the review image above to open up the full pdf of the review and then submit your translation by entering the competition here.
Of course, I'm assuming its a fabulous review…
Chiara Priorelli, Publicity & Online Marketing Manager
P.S.  Please note that whilst Adrian Magson's books in this series are set in France, no knowledge of French is required. (I know. And I studied French at uni. Once again, my mistake.)