Celebrating the Illustrated Book
Last week the Guardian website published a list of writers' favourite classic book illustrations, as part of a joint campaign with the Folio Society to celebrate beautiful books. Many of the illustrations were from children's books, and I remember a few from my own childhood – it's surprising what memories they can evoke. This one, from The Tale of Samuel Whiskers (or as I remember it, The Roly Poly Pudding) by Beatrix Potter, for example, is at once comic and slightly chilling, and as soon as I saw it the memory of reading the book rushed back to me.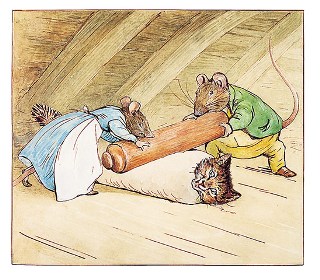 Musing on the power of a good book illustration, I stumbled across the V&A Illustration Awards 2012 – if you're interested in taking a look at some more modern (and sometimes very surreal) book illustrations, here's the place to start. The website shows all entries and winners, and the winning works can also be seen in the flesh at the V&A until 31st December. Definitely something I'll be heading to if I have time before the New Year.
So I think it's definitely the time to celebrate the illustrated book – just looking at the home page of The Folio Society's website makes me want to buy all the pretty books, NOW. And what could be a better Christmas gift for a book lover?
Sara Magness, Editorial Administrator