Aline Templeton at the Essex Book Festival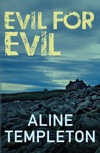 Thursday 28 march, 7.45pm  ESSEX BOOK FESTIVAL,  WITHAM LIBRARY
In an engaging talk called 'Five Red Herrings and a Flock of Hens' Aline Templeton talks about following in the footsteps of Dorothy L Sayers with her DI Marjory Fleming crime series set in Galloway, and her latest book Evil for Evil. Part of the Essex Book Festival, the event will takle place at Witham Library, 18 Newland Street, Witham CM8 2AQ. Tickets £5/£4 (Conc.). for more information and to book tickets call the box office on 01206 573 948.