A Library Beyond the Arctic Circle
As winter draws in, I am reminded of the time I spent earlier this year above the Arctic Circle near the end of the Dempster Highway in Inuvik,  Canada, where despite the glorious sunshine the lingering snow meant it was still mostly -11° during the days.  As such, you could only be outside for so long before scurrying in to the town café for a hot chocolate and the best brownies ever.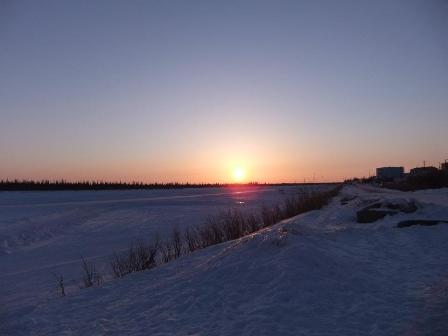 Inuvik is a small town; you can walk from one end to the other in under twenty minutes – thirty if you fall over occasionally on the ice!  There aren't many shops but near the far end of town is the library.  This was a wonderful find, everyone has to take their boots off to stop the snow and mud being trekked over the carpets and the sight of adults and children padding around in thick-socked feet browsing bookshelves is something I will remember for years.
The library has a wide variety of books, from local history complete with artefacts, internet, a whole room for children's books and the latest releases.  Soon I found myself curled up on a chair in a corner with my fleece coat wrapped around me, gloves still on, torn between Pirate King (yes! one of Allison & Busby's titles although this was the US edition) and Red Mist.  In the end I chose both and by the third day I was seen as one of the locals.
Thanks to the people I met there and the friends made, I never quite finished my second book before it was time to move on, but as I never thought one of the sights of the Arctic Circle would be the town library. I didn't mind and it has made the copies of those two books I bought when I got home all the more special.  Thank you, Inuvik.
Pippa Watts, currently doing work experience at A&B