CANCELLED – Cassandra Clark at Kirklees Libray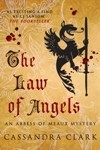 Tuesday 15th November, 7.30pm – 9.00pm         KIRKLEES LIBRARY
PLEASE NOTE THIS EVENT HAS BEEN CANCELLED. Come and meet Cassandra Clark, author The Law of Angels, the latest in the medieval mystery series featuring Abbess Hildegard of Meaux.  She will be speaking on a historical crime panel and signing copies of her books at Kirklees Library as part of their month-long crime festival.