Books that inspired Bloomsbury Girls – a guest post by Natalie Jenner
To celebrate the publication of Bloomsbury Girls by Natalie Jenner, we are pleased to share a list of books that inspired Natalie with her writing of her novel….
Let's have a look at what books inspired Natalie, in her own words…

84, Charing Cross Road a book by Helene Hanff. (bookshop.org): Hanff's classic epistolary work greatly inspired Bloomsbury Girls as a love letter to the quintessential London bookshop. And the 1987 movie version, which I watched during the first wave of the pandemic when I was missing bookshops terribly, would later help me visualize the layout of the Bloomsbury Girls shop, its many departments, and the motley crew of people working there.
Myself When Young: The Shaping of a Writer a book by Daphne Du Maurier. (bookshop.org): This book was mistakenly sent to me by a London bookshop instead of the Mansfield Park edition with an introduction by Du Maurier that I had purchased online. As a result, when I started to write Bloomsbury Girls a few months later, Du Maurier was taking up a nice little parcel of real estate in my brain. Writing about her ended up being one of the most satisfying experiences of my career.
The Bookshop a book by Penelope Fitzgerald. (bookshop.org) Fitzgerald is one of my all-time favourite authors, in part because of how she subverts what are often seen as sedate institutions (museums, academia, village life, and yes, even bookshops). Her influence on me cannot be overstated as I cajoled into existence my own ragtag group of feuding and avaricious faculty, auctioneers, booksellers and other curators in Bloomsbury Girls.
Asylum Piece a book by Anna Kavan. (bookshop.org) I first heard of Kavan from a New Yorker magazine article that came out the week the pandemic started. I didn't remember this fact until recently, but reading about a mid-century woman author so talented yet relatively obscure must have seeped into my creative mind because a few months later, this very notion became the cornerstone of the Bloomsbury Girls plot.
Brideshead Revisited: The Sacred and Profane Memories of Captain Charles Ryder a book by Evelyn Waugh. (bookshop.org) One of my top three books of all time, I was so glad to find a way to sneak it into my own novel. Ah Charles Ryder, with your schoolboy flaws and yearning voice. A highly romantic yet equally fatalistic book, so beautifully and poignantly written by one of the masters of twentieth-century literature.
Pale Horse, Pale Rider: The Selected Stories of Katherine Anne Porter a book by Katherine Anne Porter. (bookshop.org) Porter has such a strong, direct and unsparing voice. The title story here is one of the greatest ever written, yet so few readers know of it or of Porter today, even though she won the American Pulitzer Prize for her novel Ship of Fools (her short stories are even better). I thought of her, and the fickleness of literary fame, throughout my writing of Bloomsbury Girls.
The Doll: Short Stories a book by Daphne Du Maurier. (bookshop.org) I had a classic "am I really reading what I think I'm reading?" moment with The Doll by Du Maurier, a short story about a woman in Bloomsbury who keeps a life-sized male doll in her flat. The fact that this story was so bizarre and under the radar (it was out of print for over seventy years) gave me as a writer much yardage and inspiration in trying to bring Du Maurier to life.
See these books on Bookshop.org now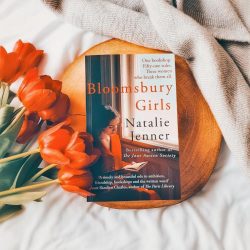 Bloomsbury Girls by Natalie Jenner (9780749028985) is out now in hardback, ebook and audiobook.
Don't forget to follow Natalie on Instagram, and Twitter and us on Twitter, Instagram, Facebook and Tik Tok!