From Screen, to Page, to Stage: Mr Dickens and His Carol – A Guest Post from Samantha Silva
To coincide with our November E-Book of the Month, Mr Dickens and His Carol by Samantha Silva, we asked the author to share her experiences of channelling the centrality of Christmas across different mediums …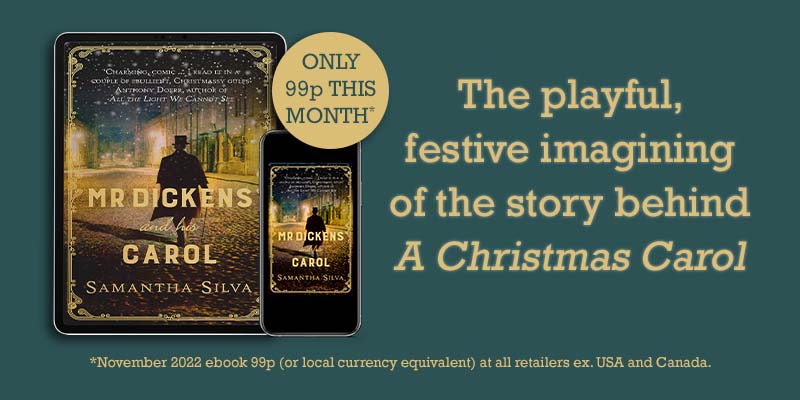 Most people who read Mr. Dickens and His Carol don't know that it began life as a screenplay – one that landed me an agent, and my first movie deal, more than twenty years ago. Only after some heart-breaking near misses with the big screen did I decide to try my hand at turning it into a novel, the near opposite, as it turns out, of film writing. It took me three years and a few false starts to figure out the craft, but it was so gratifying when it found life as a book. I didn't expect that deep into my second novel I'd be approached by a theatrical agent who thought it might have a life on the stage. This year, like my own personal Christmas miracle, the play is having its world premiere at Seattle Repertory Theatre, opening in late November.
From screen, to page, to stage, is not the journey I first imagined for the story, but each iteration surprises and rewards me, and changes the way I think about it, the way I write it. A screenplay is a blueprint for a film; it's efficient, spare – you don't write anything on the page that can't be seen on the screen. But if you're lucky enough to get a film made, there's an army of talent on set, production designer, set dresser, costumer, cinematographer, on and on, people whose job it is to bring the piece to life. As a novelist, you have all those jobs, make all those decisions, in precise detail. You even choose the weather. On top of that, the novelist conveys the interior life of her characters. All the colours an actor might bring, the novelist must. Most adapted films go from novel to screenplay; I had to reverse-engineer the whole thing. And became a better writer because of it.
Adapting it for the stage has been another gift altogether. In some ways, the physical constraints of theatre force you to make imaginative leaps. How does time work? Transitions? Movement in space? How do you create a sense of the scale of Dickens' London, but also his intimate world? The novelist-turned-playwright gives so many decisions back, to a director, to actors, a set designer, costume designer, lighting designer, choreographer, on and on, who bring it to life. All their imaginations come into play. I've watched it become something beyond what I thought possible. My job, in rehearsal, is to wrestle with every word. I have to make them believe in it, first of all.
I feel Charles Dickens with me each step of the way. The book still finds new readers every holiday season, people who write me to say how much Dickens' Carol means to them, and how the novel only makes them love it more. But I feel him with me at rehearsal every day. Dickens loved the theatre, in all its varieties, had wanted to be an actor himself (thank you, brief cold, for keeping him from that audition). There are scenes we work on when I find myself moved, not for the words I wrote, but because the actors remind me of the tenderness I feel for Dickens, and the tenderness he felt for his readers, which is why he wrote at all. "Every book you've ever written is a book about Christmas," Eleanor Lovejoy tells him. "About the feeling we must have for one another, without which we are lost."
– Samantha Silva
To find out more, head to Samantha's Website or follow her on Twitter!