Books coming soon to a cinema near you…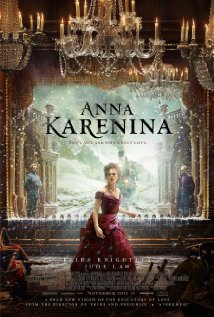 At the moment I'm reading Tolstoy's Anna Karenina, and have just realised that the new film adaptation is out on 7th September. Being only halfway through the (massive) book, I need to get a move on! I'm determined to finish before watching the film, which looks promising – with a cast of Keira Knightley, Aaron Johnson (you might know him from Kick-Ass or Nowhere Boy), Kelly Macdonald, Jude Law, Matthew Macfadyen, Emily Watson, Ruth Wilson, and many more intriguing people…it's hard to see where they could go wrong. Having said that, the book does strike me as difficult to adapt to the screen, but perhaps I should reserve judgement until I've finished it.
In case it's somehow not a spectacular success, there are other literary adaptations to look forward to this autumn and winter. Yes, I know the weather is actually warm at the moment, and summer isn't over, but cinema-going is one thing I look forward to as autumn approaches. The Perks of Being a Wallflower, cult teen novel, is out on the big screen in early October, and I've just discovered that there's a new version of Great Expectations on the way too, in November. Considering the recent BBC adaptation, I'm not convinced we need another one, but like Anna Karenina it does have an impressive cast: Ralph Fiennes, Robbie Coltrane, Sally Hawkins and, slightly surprisingly, David Walliams. Miss Havisham is of course played by Helena Bonham Carter, which annoys me slightly – she is a great actress, but I'm getting a bit tired of her playing the same madwoman role with the crazy hair (Look out for it – I bet it'll be there).
But even after this there are more cinematic delights to look forward to this year – The Hobbit: An Unexpected Journey will probably be a good watch around Christmas-time, although unfortunately The Great Gatsby has been moved forward to the summer of next year. And it seems that 2013 will be a big year for adaptations of YA novels:  Catching Fire (The Hunger Games 2), Stephenie Meyer's The Host, and Beautiful Creatures, by Kami Garcia & Margaret Stohl, are just a few teen books hitting the big screens next year. Looks like bookworms will have to tear themselves away from the printed page and spend some time in the cinema…
Sara Magness, Editorial Administrator