Book recommendations for Anna Jacobs fans
So you know a fan of Anna Jacobs (or maybe you are one yourself) and you want to give them a book, but they've read all her books already – so what do you give them? Allow us to come to the rescue with a few humble suggestions.
Beryl Matthews was born in London and grew up during WWII, and her first novel was published when she was 71! Her novels feature young women forced to make difficult decisions to protect their families, while struggling to hold on to their own dreams. Her latest novel, When The Music Stopped, is available now in paperback and there's £2 off with code BOTM3, until the end of November!
London, 1912. Identical twins Lester and Lillia Holdsworth are destined for the stage. Lester is a brilliant pianist; Lillia a magnificent opera singer. But their cruel father has other ideas for their future. Lester is sent to a military academy, while Lillia must marry a self righteous, pompous friend of her father's looking for a young wife to give him an heir.

 

Yet their plans to defy their father's wishes are put on hold when war breaks out in 1914. Suddenly Lester is flying planes for the RFC and Lillia trains as a nurse to help those wounded at home, and then abroad. For both twins, the fighting brings hardships and difficult choices. They wait in hope, like the rest of Europe, for the war to end and the music to start again.
June Tate was born in Southampton and spent the early years of her childhood in the Cotswolds. She now lives in Sussex, where she writes about hard-working women determined to deal with cruel twists of fate. An Uncertain Heart is her latest book, and is another November Book of the Month: use code BOTM2 for £2 off.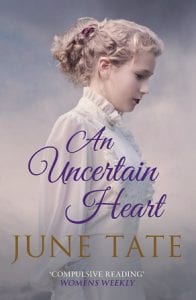 Belgium, 1917. At a military hospital in Poperinge, close to the horrors of the front line, Sister Helen Chalmers strives tirelessly to save the many injured soldiers brought in from battle.
It's not long before Helen is swept off her feet by Captain James Havers, a man with whom she can see a future. When James is injured in the fighting, he is sent back to Britain to recover. But it's soon clear his injuries are more than just physical; the violence of warfare has left him a changed man. Helen must summon what strength she can to help the man she loves overcome the lasting and devastating effects of war.
June Francis moved to Liverpool at an early age and live there still, so it's no surprise that many of her books have links to the city. She started writing producing articles for My Weekly and has now published over twenty novels. June's books have strong themes of family, friendship and discovering love in unexpected places. Her latest novel is The Pawnbroker's Niece.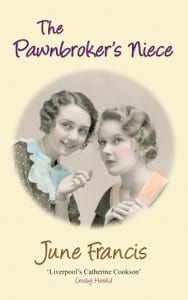 When her mother leaves Liverpool for a new life in Cardiff, Rita Taylor has little choice but to go and live with the aunt she never knew she had. Grudgingly Margaret Sinclair, the local Pawnbroker, agrees to look after her wayward niece. Despite an initial battle of wills the two soon become firm friends, especially when Rita re-introduces Margaret to her long lost childhood sweetheart William Brodie.

As the Great Depression hits, the Brodie family find themselves facing financial ruin – can Rita persuade her aunt to help or will her feelings for William get in the way of a deal? As Rita's relationship with the Brodie family flourishes and secrets from Margaret's past emerge both women must make a dramatic change of heart if they are to avoid making the same mistakes all over again…
Let us know if you enjoy these recommendations, and remember there's free postage and packaging on all UK orders from our website or over the phone!