Christmas Books For Every Taste
As the calendar turns to December, the Christmas season has officially begun! Today we wanted to share three Christmas-themed books with you, covering a variety of genres, so there's something for everyone!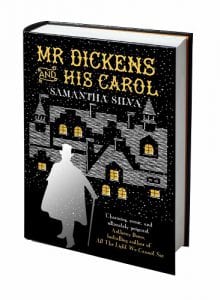 The Feel-Good Favourite
Mr Dickens and His Carol, by Samantha Silva
This festive treat is an imagining of the story behind Charles Dickens writing his famous 'A Christmas Carol'. A bestseller in the U.S., it's been getting amazing reviews on both sides of the pond, including this from Anthoney Doerr, author of All The Light We Cannot See: 'Charming, comic and ultimately poignant … I read it in a couple of ebullient, Christmassy gulps.'
Charles Dickens should be looking forward to Christmas. But when his latest book, Martin Chuzzlewit, is a flop, his publishers give him an ultimatum. Either he writes a Christmas book in a month or they will call in his debts and he could lose everything. Dickens has no choice but to grudgingly accept…
2. The Historical Romance
  
The Mischief of the Mistletoe by Lauren Willig
A Christmas caper from the New York Times bestselling author Lauren Willig, this exciting romance is perfect for a winter evening.
Her great friend Jane Austen warned her against accepting a position at Miss Climpson's Select Seminary for Young Ladies. Nevertheless, just before Christmas, Miss Arabella Dempsey finds herself face to face with French aristocrats and international spies – and it's all because of Reginald 'Turnip' Fitzhugh, often mistaken for the elusive spy the Pink Carnation, who has blundered across her path.

When Turnip and Arabella discover a cryptic French message inside a beautifully wrapped Christmas pudding, they are launched on a festive adventure – from Jane Austen's modest house to the grand estate of the Dukes of Dovedale – and, perhaps, love blossoms along the way…
3. The Christmas Crime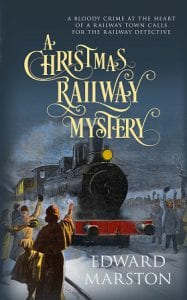 A Christmas Railway Mystery by Edward Marston
Much loved for his attention to historical details, Edward Marston has produced another exciting mystery. Although part of his Railway Detective series, the book stands alone and is a great introduction if you haven't tried his novels before.
December 1860. The morning shift at Swindon Locomotive Works is about to begin and an army of men is pouring out of the nearby terraced houses built by the GWR. Frank Rodman should have been among them, but he is destined for the grave sooner than he might have expected, or he will be, once his missing head is found.

But Christmas is fast approaching, and the last thing Inspector Colbeck needs is a complex case, mired in contradictions. As he wrestles with one crime, he is alarmed to hear of another – the abduction of Superintendent Tallis. Colbeck and Leeming find themselves in a hectic race to solve a brutal murder before rushing off to Kent in a bid to save the superintendent's life.