I am currently reading Look Who's Back by Timur Vermes – a hilarious political satire where Hitler wakes up alive and well in Berlin, 2011. People think he's a flawless impersonator and it's not long before he gets his own TV show.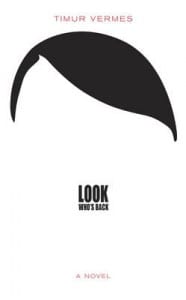 It's a such a simple and brilliant idea for a book. And it got me thinking, who else would make an interesting comeback from the dead? I've narrowed it down to a few choices:
Virginia Woolf – She had lots to say about society and women, I wonder what she'd say now?
Albert Einstein – He could develop more mind blowing theories and perhaps he could explain E = mc² to me?
Oscar Wilde – His pithy epigrams would certainly benefit society.
Who would you bring back and place in the modern world?
Sophie, Editorial Administrator