Everything in its Rightful Place
I was happy to see last week that another independent bookshop is showing its determination and canny, in order to save itself from closing down. I was especially pleased to see that it was October Books, based in Southampton, very close to where I grew up. After 37 years in the business, the cooperative-run bookshop is appealing to its customers to help it raise £6,000 to renew its lease. And after 37 years of service to the book-hungry public, I think they deserve to be rewarded with this act of support, and be able to stay put!
Keep an eye out for more indie info (and likely future A&B blog posts) in support of Independent Booksellers Week, a highlight of any book-lover's calendar, which is running from the 28th June – 5th July. And apologies if you're not currently in our capital, but perhaps when you are visiting you might find it handy to download this app, in order to find the hidden gems that are the independent bookshops of London.
Last weekend I was busy finding books in less likely places – see the photo below of a book-swap scheme going on in the Harris and Hoole café that I popped into for something hot, to thaw me out after a soaking from the not-so-glorious bank holiday weather…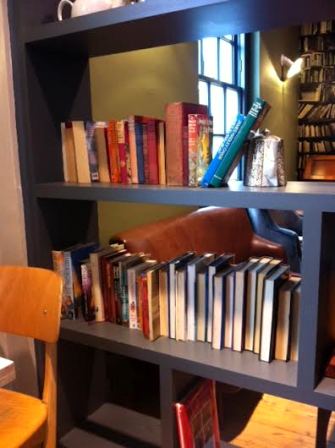 Which books have you been enjoying over the weekend?
Kathryn, Publishing Assistant