Autumn in the Countryside
To celebrate a special occasion this weekend, my husband whisked me off on a romantic weekend break to a little village in Suffolk called Lavenham. He'd read an article in The Times recommending special places to visit in the UK and The Great House in medieval Lavenham, boasting superb cuisines and numerous awards had been the hands-down winner as far as he was concerned.
Parking our rattling little Corsa between a huffing great beast of a Landrover on one side and a sleek Porshe on the other, we wondered briefly if we were out of our depth. But the Great House is not one of those imposing, pretentious hotels where the concierge glares at you imperiously through his pince-nez. French-run, and seemingly completely French-staffed, the 'restaurant with rooms' is one of the friendliest and cosiest place I've ever stayed.
There are only five rooms in the hotel, most of them suites. We had room 5; alright it was the tiniest, but it was also the most charming little attic room complete with sloped ceilings and huge exposed beams, subtle candlelight-type illumination by the bathtub, a beautiful silver telephone that looks like one of those old wind-up ones, a decanter of complimentary sherry in the drinks cabinet – and not one frilly, crocheted knickknack in sight!
But apparently the rooms are just an aside at the Great House where the main agenda is fine cooking.  We dined in the restaurant on Friday evening and were not disappointed. I could go on for days about the menu (and the wine) but this is a blog after all. So just as a teaser my highlights were the starter of crème brulee goats cheese with beetroot bruschetta, the perfectly cooked duck, and for afters, the gorgeously smelly cheeseboard where you are invited to go and choose your own. Needless to say, after such a feast, we slept well!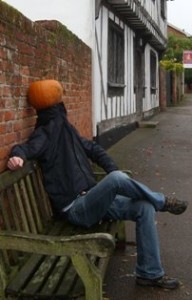 Over the weekend, we visited the farmers market where we bought our pumpkins for Halloween; did the Lavenham circular ramble through farms and into the countryside in the misty rain; explored the village of higgledy piggledy buildings and crooked cottages and galleries; had a poke around the antique shops where I fell in love with a sparkly vintage purse from the 60s and found an inexplicable fascination with pipeboxes from the 30s; and spotted pictures of our author Mike Ripley around the town! (He'll be giving a creative writing class at Lavenham Literary Festival – click here for more details.)
It was the perfect autumn break…
Lara Crisp, Managing Editor