Another reason to revisit Point Blank
Earlier this month, Sir Michael Caine celebrated his 80th birthday, and as the publishers of Alfie and Get Carter, it was appropriate we highlighted it on our blog (speaking of which, there's still time to enter our Michael Caine giveaway). Now we hear that the director John Boorman has also turned 80 years old this year – on January 18th to be exact.  Boorman directed Oscar-nominated films such as Deliverance and Excalibur, as well as the cult classic, Point Blank, adapted from the novel we publish by Richard Stark, so it would be remiss of us not to acknowledge (albeit belatedly) his birthday here too.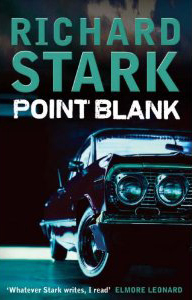 Today, in fact, sees the launch of a retrospective of his work at the British Film Institute (BFI) on the Southbank (25th March – 30th April) and you can catch various showings of Point Blank over the next few weeks. You can read an interview with the director in today's Telegraph, and he'll be 'in conversation' at the BFI tonight at 6.30pm. Don't forget that Point Blank is our current Book Club Choice and that the new film adaptation, Parker, is out in cinemas this month.
It's a Boorman moment.
Chiara Priorelli, Publicity & Online Marketing Manager