Chocolate + Charity: The best combination ever…
With Easter on the way, and having attended the South Bank's annual Chocolate Festival (also in Bristol on 30th and 31st March) on the weekend, I'm craving some chocolatey goodness. And it turns out there's good reason to indulge yourself this April; The Sick Children's Trust, a charity that provides families of sick children with free accommodation minutes from the hospital, is encouraging everyone to get involved by holding a Big Chocolate Tea Party.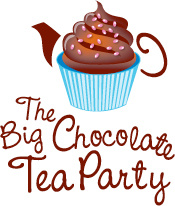 Chocolate plus the feel-good factor of fundraising? Yes please. So this April, while the weather is (most likely) too wintry for frollicking about outside, why not host a Chocolate Tea Party and stay in the warm instead? Perhaps if you're a member of a book group, you could eat chocolatey treats alongside a suitable book – Chocolat by Joanne Harris, perhaps? Or how about hosting a Charlie and the Chocolate Factory party for the kids (you'd be on trend, as there's a new musical version hitting the stage soon)? Or perhaps you prefer a quiet cup of tea and a slice of chocolate cake with a few friends.
Whatever your preferences, I'm sure you'll all agree that some Mulled Hot Chocolate, Chocolate Orange Cupcakes, Sea-Salt Truffles, Jaffa Cake Cheesecake or Chocolate Roulade with Redcurrants would brighten up your day. Yum, I'm salivating already…
Sara Magness, Editorial Administrator