An afternoon with Kimberly Derting
This Saturday just gone, YA fans flocked to Foyles, Charing Cross in London for a chance to meet Kimberly Derting (author of the new dystopian fantasy The Pledge published by us, and The Body Finders series published by Headline) where she was giving a talk and reading with fellow YA authors Tanya Byrne, James Dawson and Cat Clarke.
The authors answered questions from the audience, bantered with eachother, competed at one point on how fast they'd all written their novel (Cat Clarke lost: 3 years against James Dawson's winning 6 months), revealed it is possible to have a mid-life crisis at age 25, and agreed that teenagers are not afraid of dark and harsh subjects. We also learned that Kimberly spent 15 years writing and rewriting 'a terrible horror novel' (her words) simply because she thought that was the best way to get published, and it was only when she finally decided to simply write the kind of novel she wanted to write,  that she actually got published and became a successful author. Lesson: Write what you want to write, not what you think you should write.
A special mention must be made to four girls who came all the way from France specifically to see Kimberly. True devotion! And a huge thanks from all of us at Allison & Busby.
Finally the day ended with high-tea at the fabulously fun venue Drink, Shop, Do where Kimberly got the chance to chat to some of her blogger fans. After two hours of gorging on scones, cucumber and salmon sandwiches, pick & mix sweets (very popular), sipping teas including Cherry Bakewell Tart tea (yes, really!) and chatting about all manner of bookish things, we all left full and happy.
A few photos from the day below…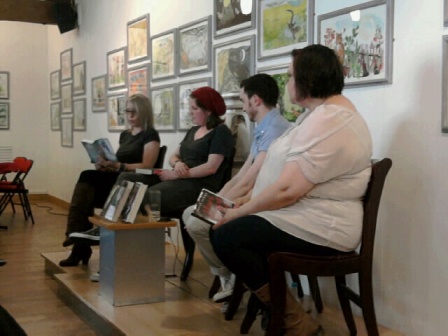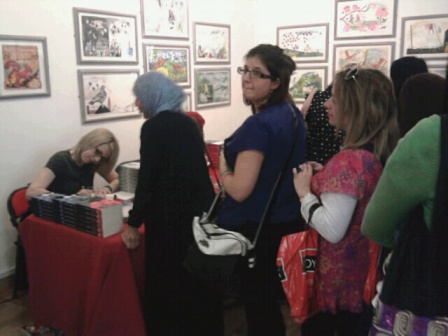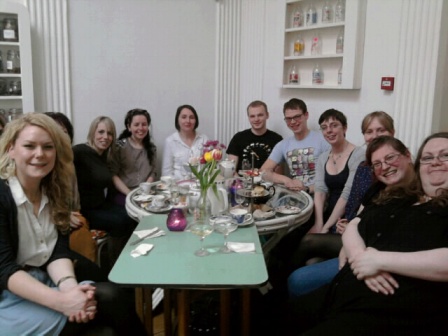 Chiara Priorelli, Publicity & Online Marketing Manager