Allison & Busby Signs Exciting Crime Debut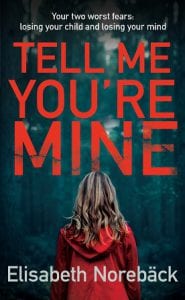 Allison & Busby have acquired a standout crime novel by Swedish debut author Elizabeth Norebäck that has sold in 33 languages, and has been shortlisted for the Crimetime Specsavers Award for best debut.
Publishing Director Susie Dunlop secured the UK & Commonwealth rights from Penguin Random House in the USA, following an enthusiastic reading from A&B's Assistant Editor Kelly Smith.  The rest of the team quickly got hooked, and the novel will be their lead title in September.
Tell Me You're Mine is a perfect combination of domestic suspense and Nordic thriller, and asks where is the line between hope and madness?
Stella and her boyfriend were teenagers when their one-year-old daughter Alice vanished during a holiday, believed to have drowned although no body was found.  Twenty-one years later, Stella is happily married and a successful therapist, but everything falls apart when a new patient walks into her office – she introduces herself as Isabelle but Stella is sure she is Alice …
Dunlop said: "When Kelly talked to me about this exceptionally plotted and character-driven novel, her enthusiasm was contagious.  Within days we'd all fallen for it and a deal was struck with PRH, who will publish simultaneously with us.  The author's Swedish agent has sold the book in an astonishing 33 territories and it's easy to see why – it perfectly sits alongside Leïla Slimani's unsettling Lullaby and A J Finn's compelling The Woman in the Window."