Alanna Knight speaking at Orkney Library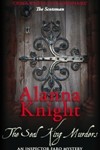 Thursday 23rd June, 1.00pm – 2.00pm    ORKNEY LIBRARY, KIRKWALL
Crime-writer Alanna Knight will be speaking about her work and signing copies of her latest book set in Orkney, The Seal King Murders, at Orkney Libray, 44 Junction Road, Kirkwall, KW15 1AG Orkney. For more information call the library on 01856 873166. She will also be leading a workshop for the Stromness Writers' Group later in the evening. For more information about the workshop contact lucy.gibbon@orkneylibrary.org.uk.