Adrian Magson workshop at York Festival of Writing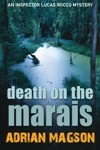 Saturday 26th March, 10.10am-11.10am UNIVERSITY OF YORK
Crime and espionage novelist Adrian Magson, author of Death on the Marais, leads a workshop entitled: What's the difference between a crime novel and a thriller? as part of the York Festival of Writing. The crime and thriller market is a huge area of sales, but has its own ecosystem and subcultures. If you are writing for this market, you need to make sure that you are directing your work at what the trade is looking for. Adrian shares all he knows. He will also be holding Book Dr sessions (think speed-dating with manuscripts) at 3.30pm on both Friday 25th and Saturday 26th March. For more information and to book tickets visit The Writer's Workshop Festival of Writing website or call 0845 459 9560.