CRIMEFEST: Panel with Zoë Sharp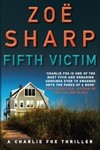 Saturday 21st May, 11.10am–12noon CRIMEFEST: BRISTOL MARRIOTT ROYAL HOTEL
Zoë Sharp, author of the acclaimed Charlie Fox thriller including the latest release Fifth Victim, joins Simon Conway, Don Winslow and Charlie Charters on a panel entitled: The Grass Is Greener: Thrillers – UK vs US. Moderated by Nick Sayers. For more info visit Crimefest.