A Mind to Murder: a personal tribute to PD James by Mandy Morton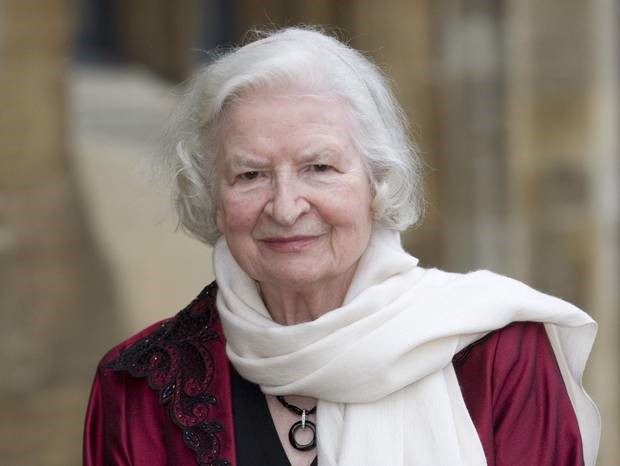 When someone famous dies we are treated to a glut of views and tributes from people who knew them, worked with them or were inspired by them. With these insights, we build up a lasting understanding of who they were and the imprint they have left behind. After the death of PD James in November last year, the expected tributes were fast and furious. There was a hurriedly put together Great Lives programme on Radio Four, which I found strangely disconnected and almost intrusive to the woman I had known as a friend, and I smiled as various broadcasters remembered the woman who had so brilliantly taken on the Director General of the BBC. Then followed tributes from the literary world – authors she'd inspired, actors to whom her books had given employment, and the hallowed halls of academia, who gave subtle reference to her work as the year progressed by building lectures and presentations in her memory.
Looking back on these last twelve months, I'm now convinced that we have lost not one but two very important people. PD James, the creator of some of the finest crime fiction, the storyteller who wove realism and believable characters into her novels as she explored the minds of so many murderers, giving her readers a modern and complete understanding of what drives people to commit the ultimate crime. In her books we were treated to every aspect of society: the well-heeled, the downtrodden, the hard working and often greedy middle classes, the cloistered clerics and particularly the plain and dowdy folk who move unseen through life. Her attention to detail was forensic but never dull; as a writer of meticulously researched events, she had an extraordinary and instinctive understanding of how destructive human nature can be.
As a journalist, I interviewed her at length on her motivations, her characters and her sense of place. It was always a joy to arrive at her house in Holland Park with her latest book tucked under my arm and a raft of questions about her new characters and the misery she'd created for them.
I first met PD James twenty years ago when she was a guest on my radio show. I have to admit that the prospect of interviewing her frightened me to death: not only was she the Queen of Crime, but at the time she was also a governor of the BBC, the organisation that paid me. Within seconds of her arriving in my studio, I knew she would have a profound effect on my life. 
Our friendship was cemented when we worked on a Radio Two project together. A Mind To Murder was an hour long programme in which PD James gave an insight into her work, allowing the listener into her life and her inspirations. To produce a programme like this was an absolute delight for me, especially as she had so rarely discussed any aspects of her personal life in public before. Although her books were very modern in their approach, PD James herself subscribed to that old fashioned principle of privacy and gave very little of herself away, whilst seemingly telling all.
In the early days, a new book was always a perfect excuse for a trip to Holland Park, but my visits became more frequent as I got to know the other woman called Phyllis. My partner, also a crime writer, and I would beat a path to her door several times a year to laugh and gossip through cream teas or fish and chips in her basement kitchen with hardly a mention of books or the BBC. We delighted in sharing our news and views. We collectively put the world to rights and Phyllis, now in her eighties, would never fail to astonish us with hermodern and keen observations on life in general.
On one of our visits we brought the news that we had just entered into a civil partnership, and I will never forget Phyllis doing a jig down her hallway, clutching a bottle of champagne bound for the fridge. We learnt that we could discuss anything and everything with her; her mind was open, and continued to be open, right up until the end of her life.
When her death was announced on Radio Four, we were waiting for the announcement; her wonderful personal assistant, Joyce, had told us the day before that Phyllis was quietly slipping away, and it gave us time to grieve before her death became a public news story.
People remember friends in many different ways. There are the memorial services where the great and the good voice their memories, and PD James was given a glorious memorial service in the church of the Inner Temple in London, where we sat behind an ex Prime Minister and his wife while the hierarchy of the Church of England spoke in her praise. My partner and I planted tulips on our allotment, her favourite flowers. It was no great surprise to us that they forced their way up through the soil two months earlier than expected.
Phyllis's daughter, Clare, invited us back to the house in Holland Park this summer to choose a memento to remember her by. In spite of having attended a funeral and a memorial service, I still expected Phyllis to greet us as she always had. That was probably the moment when I realised that I had lost a very important part of my life, a surrogate grandmother, a confidante, a guaranteed source of wisdom, and a friend who had the wickedest sense of humour, unrivalled by anyone I have ever met.
We left Holland Park with a heavy heart, my partner clutching a pottery rabbit pen pot that always sat on Phyllis's desk, and me the promise of a five foot Camellia which stood guard at her front door.

If you would like to listen to Mandy's recent rebroadcast of A Mind to Murder, it can be found at 27 minutes into the show through the link below.
ELS PD James tribute. by The Eclectic Light Show on Mixcloud