A guest blog post from Graham Bartlett as part of National Crime Reading Month
To celebrate National Crime Reading Month (June 2023) we will be showcasing our finest crime series from the Allison & Busby bookshelves. Each week, we will be spotlighting a different crime series and bringing you exclusive content from the authors themselves. National Crime Reading Month aims to bring crime writing, old and new, to the forefront of bookshops and libraries throughout the month of June. We are thrilled to be taking part in such a pivotal initiative in the crime writing world! This week we have a guest blog post from Graham Bartlett on books that inspired his Jo Howe series.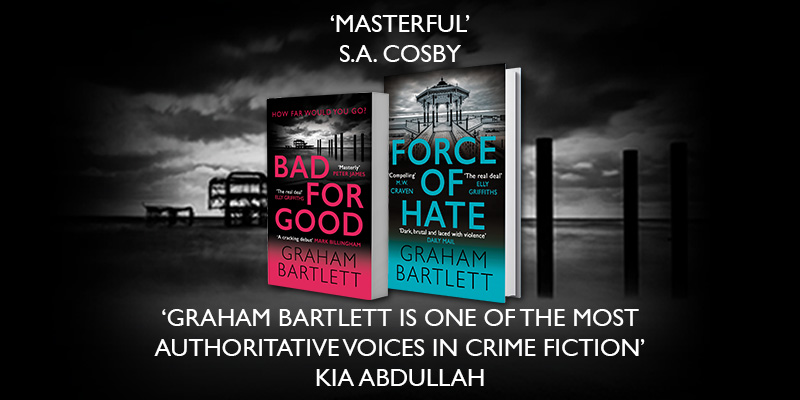 Do I write police procedurals? I don't really know. I suppose, strictly speaking the Jo Howe series (Bad for Good and Force of Hate) are procedurals or at least they certainly were my world when I was in Jo's shoes as Brighton and Hove's police commander. Each day I battled to insulate my officers from toxic politics and self-interest so they could focus on cutting soaring crime – caused by factors outside our control – and catching criminals. My day-to-day dramas, balancing the external noise with the real job, was every bit as dramatic as hunting down fictional killers. Or at least that's how it seemed.
Increasingly, my good friend and mentor Peter James touched on how pressures such as reduced funding and political ambition frustrated his protagonist, Detective Superintendent Roy Grace. However, it wasn't until, Not Dead Yet, did Peter tackle it head on. Here, Grace tackles the terrifying threat to a Hollywood star visiting Brighton and Hove while some, for commercial reasons, insist on using the occasion to bathe Brighton and Hove in the brightest possible light. Enter Chief Superintendent Graham Barrington to absorb this noise, allowing Roy to get on with catching the would-be killers. No one had told that side of the policing story, so who better than someone who'd lived and breathed it?
It would have been very easy to write Joe, rather than Jo, Howe. I could have just syphoned my experiences and transfused them into Joe. However, around the time I was musing whether to venture from non-fiction to novel writing, I read Ian MacEwan's, The Children Act. I was struck by the story of a strong independent woman, Judge Fiona Maye, having to draw on every ounce of her knowledge, experience and humanity to make an inevitably divisive decision. Surely only a man with McEwan's credentials could write such a complete female character so eloquently. But then I thought, why not? I knew many women like Fiona, and their depth and complexity paled that of my male colleagues. The idea of Jo Howe took root, so I dropped the 'e' and hunkered down. Now Jo feels like a real, slightly frustrating, friend.
I found Gregg Hurwitz Orphan X series by accident. I think The Nowhere Man flashed up on my Audible subscription so I gave it a go. I've always been fascinated by people who think they are good doing bad things. Evan Smoake is just such a person. His motives for annihilation are far nobler than my antagonists' but, like Evan, their conviction that the ends justifying the means helps them sleep at night. Hurwitz writing style also became a massive influence on me. I met him at a festival once and gushed to him about how there was not a wasted syllable in any of his books, making them so pacey and dramatic. He smiled and said, 'that's the point.'
In Force of Hate, I wanted even bigger themes than Bad for Good and trafficking was one I wanted to cover. I've always been ashamed by the way we, in the relatively privileged and safe countries, treat refugees. I'd read Christi Lefteri's, The Beekeeper of Aleppo, a most beautifully layered and contrasting story of a world the vast majority of us – thank goodness – could never contemplate. It had captivated me. The imagery, characterisation, metaphors and polarity were spellbinding. The seed of Ajee's story in Force of Hate started with this book then blossomed with shocking accounts from my nephew who worked in an Athens refugee reception centre.
From there I turned to the brutal true-life story, A Hope More Powerful Than the Sea, by Melissa Fleming. Nineteen-year-old Doaa Al Zamel's suffered the most barbaric treatment at the hands of Syrian soldiers, Egyptian police and people traffickers forcing her, time and again, to try to flee across the treacherous Mediterranean to the relative safety of Europe. It shocked me. She was just a girl, not much younger than my own daughter, forced to draw on every fibre of her reserves to survive. I could not have written Force of Hate's Ajee and Farah without learning Doaa's story and its truth shames me even more about how we treat people who need our help.
My books are a deliberate juxtaposition of policing, politics and greed. They cover uncomfortable themes that, like it or not, are our reality. Influenced by my own experiences, people I know and literature, I have fictionalised a cruel world with a few good people standing up against it in hope.
Click here to learn more about the Jo Howe series.
Click here to read the full list of books that inspired the series on Bookshop.org.
Don't forget to follow us on Instagram, Facebook, and Twitter to keep up with the latest news!