Unexpected Detectives in Fiction – A guest blog post from Christina Koning as part of National Crime Reading Month
To celebrate National Crime Reading Month (June 2023) we will be showcasing our finest crime series from the Allison & Busby bookshelves. Each week, we will be spotlighting a different crime series and bringing you exclusive content from the authors themselves. National Crime Reading Month aims to bring crime writing, old and new, to the forefront of bookshops and libraries throughout the month of June. We are thrilled to be taking part in such a pivotal initiative in the crime writing world! We're kicking off the celebration with a guest blog post from our Author of the Month, Christina Koning, who writes the Blind Detective series.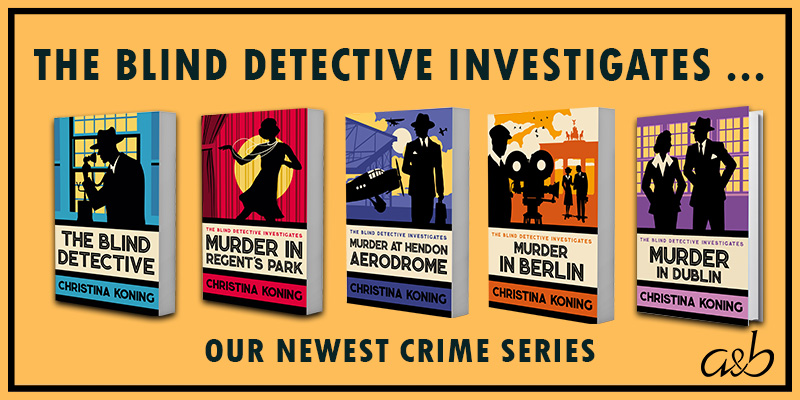 When I decided to write about a detective who is blind — in this case, as a result of injuries sustained during the First World War — I discovered that I was not the first to do so. Max Carrados, in the eponymous series published from 1914 onwards by Ernest Bramah, is a gentleman-sleuth in the Lord Peter Wimsey mode, and the stories are certainly entertaining. Their treatment of the central character's blindness is far from realistic, however. In addition to a kind of sixth sense which enables him to describe a stranger's appearance in minute detail the minute he walks into the room, Carrados can read newspaper headlines using only his fingertips (it should be said that Braille newspapers were not then available).
Sandy Kinloch, in John Ferguson's 1928 novel, The Man in the Dark, is more realistically drawn, and I found some intriguing parallels to my own depiction of blindness in The Blind Detective series. Like my hero, Frederick Rowlands, Kinloch is a veteran of the Great War, and has struggled — as many blinded veterans did — to make a life for himself in the sighted world. Ferguson's story begins, as mine does, in a London 'pea-souper' fog — a device intended to disorient the reader, who is not told initially that the protagonist in each case is blind. And if the very fact of their being blind might seem to disqualify these characters from being detectives at all, it should be said that there are different ways of seeing, and that intelligence, together with the capacity to use one's other senses — hearing, smell, touch, and taste — to the full, gives these sleuths an advantage, rather than otherwise.
Detectives with disabilities are by no means unusual in fiction — with perhaps one of the most iconic being Robert Ironside, in the 1960s television series, A Man Called Ironside, who uses a wheelchair. A striking aspect of the show was that it focused on Ironside's ability to solve a case using sheer brain power — a characteristic also displayed by non-disabled detectives such as Agatha Christie's Hercule Poirot, or her no less unlikely sleuth, Jane Marple. Each of these characters — a paraplegic former police officer, a comically fastidious Belgian private detective, and a demure elderly lady living in a quiet English village — possesses the 'secret weapon' of a formidable intelligence. Each of them is underestimated at their adversaries' peril.
More recent examples of unexpected sleuths include J K Rowling's private investigator Cormoran Strike, in the series written as Robert Galbraith. Strike, a veteran of the Afghan war, who has lost a leg in the conflict, must battle with this disability and with a tendency towards heavy drinking, which sometimes incapacitates him still further. Fortunately, he has a female sidekick, Robin Ellacott, who keeps him more or less on the straight and narrow, as the two solve case after intriguing case. In C J Samson's enthralling Tudor series, his lawyer turned detective, Matthew Shardlake, is a hunchback — a fact which does not prevent him from carrying out investigations into a series of gruesome crimes at the court of Henry VIII. Or there's Lionel Essrog, in Jonathan Lethem's Motherless Brooklyn, whose Tourette's syndrome sets him apart from his fellow New Yorkers, but does not stop him solving a complicated murder case.  
Then there's the most famous detective of all. 'All emotions, and that one particularly, were abhorrent to his cold, precise but admirably balanced mind…' The emotion referred to is love, and Sherlock Holmes's attitude to it is only one of the character traits which, to a modern audience, might suggest, if not the 'high-functioning sociopath' familiar from the television reworking of the stories, at least someone with autistic tendencies. Holmes, for all his brilliance, is an oddity: emotionally detached; different. It's this which makes him so fascinating — the fact that his mind doesn't work in conventional ways, and that he relies on his intellect, rather than his emotions, to find solutions to the most baffling crimes.
So I feel that my Blind Detective is in good company, and that in some respects, his disability makes him more effective, since he has been obliged because of it to train his memory and wits in ways a sighted person would never need to. I also like the idea that, as readers, we are all 'blind detectives' — forced to navigate our way through the narrative with the aid of clues which might or might not prove misleading, until we come to the final denouement.
Click here to learn more about the Blind Detective series.
Don't forget to follow us on Instagram, Facebook, and Twitter to keep up with the latest news!