Zombie Expert Dr Dale at SFX Weekender 2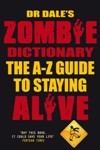 Thursday 3rd – Saturday 5th Feb      SFX WEEKENDER 2, CAMBER SANDS
Amongst the galaxy of guests, panels and signings at 2011's SFX Weekender 2, you will find the one man who might actually save your bacon one day. Dr Dale, author of Dr Dale's Zombie Dictionary will be running his award-winning How To Survive A Zombie Apocalypse seminar at the SFX Weekender in Camber Sands. For more information and to book tickets click here.