ZOMBIE BOOK SIGNING – BANBURY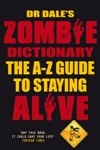 Saturday 6th November, 11.00am-1.00pm    WATERSTONE'S, BANBURY
Come and meet Dr Dale, leader of the hit comedy seminar How to Survive a Zombie Apocalypse and author of Dr Dale's Zombie Dictionary. Ask him anything you want about zombie survival and get a signed copy of his book at Watertone's, 32/33 Castle Quay Centre, Banbury OX16 5UN. For more information call the bookshop on 0843 290 8127. If you care about your life, don't miss this event!