This year, Halloween is all about Zombies…
Oh dear, there is a Halloween-themed birthday party on the horizon and I am definitely without inspiration as to what to go as. Any thoughts as to simple, but of course clever and original, oh and easily constructed costumes, greatly appreciated (I'm not asking for much eh?).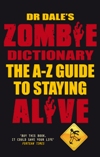 The trouble is, this year Halloween for me is all about the zombies…  Check out our events calendar for the How to Survive a Zombie Apocalypse autumn tour (don't miss it! It's a great night out!) and Dr Dale's Zombie Dictionary book signing events. Yes, I am zombie-obsessed now…but no, zombie-attire that isn't exactly a flattering look for a night out, now is it?
So, until inspiration strikes maybe I'll scan this book, Zombie Cupcakes for treats that will fend off anyone thinking of tricking me. To really get in the spirit though, I'll be buying a copy of Zombie Aid's charity single – brilliant teaser trailer here!
Wait a second, I could go as a Zombie Survivalist. Definitely a more flattering option. Right, let me find Dr Dale's Zombie Dictionary and that chapter on Clothing…
Lesley Crooks, Sales & Digital Manager