You wait ages and then three queens come along at once…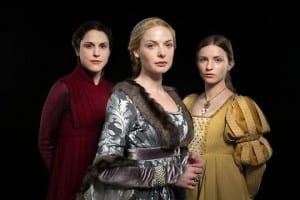 Have you been watching The White Queen? After what I thought was a good start (Janet McTeer gets thumbs up from me and not just for her Princess Leia hair-do, though that helps) I've found that later episodes have dragged a little. Mostly because characters are having to carry the weight of exposition, and keep the audience up to date with the crosses and double-crosses that abound in this fraught historical period.
Philippa Gregory's documentary The Real White Queen and her Rivals came across much clearer than the drama and allowed some of the historical facts (for example, Margaret Beaufort was married at twelve, then gave birth and nearly died aged thirteen) to pack their own punch.
While my dusty memories of Plantagenet and Tudor history have been dusted down, I thought I remembered coming across Margaret Beaufort somewhere else. In Named of the Dragon, by Susanna Kearsley to be precise. Set in Wales during the festive season, this matriarch of the Tudor dynasty crops up as a ghostly presence…but if you want to find out more you don't have to wait long, we're reissuing it in September (ask to be alerted when available!)
Lesley Crooks, Sales & Digital Manager