The Boy, the bandwagon and the bets…
Kate finally popped! So the third in line to the throne is a boy. And we wait with baited breath for a name. I wonder if there's one already chosen or if they're trying to decide from a few shortlisted names. We can scoff and imagine they'll call him something like Bartholomew, but I think it will be quite contemporary. Daniel and Harry are the most popular boy's names in the country, but I guess  Harry is… eerr already taken.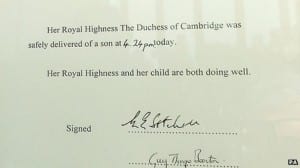 Apparently the name Kayden is rapidly rising in popularity in the UK . Prince Kayden? No I am not a fan either. One of my friends said 'Wouldn't it be great if they dropped all that grandeur and just named it Trevor?' I can't quite see that either – although it would be amusing!
The publishing world have, unsurprisingly, jumped on the bandwagon with a string of new releases themed around the Royal Baby.  I'm sure there will be a Royal Baby Names book coming out at some point…
So, as we wait for the news of the baby's name – what's your best bet?
Sophie Robinson, Publishing Assistant