YA event with Kimberly Derting in London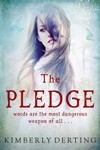 Saturday 12 May, 2.30pm    FOYLES, LONDON
As part of Foyles new Creative Voices series, emerging YA novelists Kimberly Derting (author of The Pledge) James Dawson,  Tanya Byrne and Cat Clarke discuss their work, their inspiration and their journeys to publication. These writers are already changing the scene of the YA genre, taking the classic themes to a whole new level. They discuss this and more, plus will sign copies of their books at Foyles, Third Floor (the Gallery, 113-119 Charing Cross Road, London WC2H 0EB. For more information call the bokoshop on 020 7437 5660. Tickets are Free, but need to be reserved by emailing events@foyles.co.uk or online here.